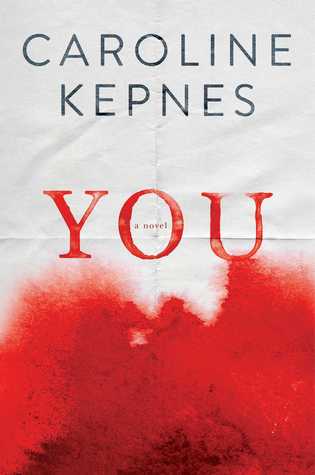 Title: You
Author: Caroline Kepnes
Start Date: September 24, 2015
Finished: October 6, 2015
✧ ✧ ✧ ✧ / 5
I found the perfect creepy book for the month of October and I don't even care that I started it late last month. I kept seeing this one through Goodreads and Instagram; everyone and their family pet seemed to be reading and enjoying this so I thought, why not. I originally borrowed it from the library but as soon as I saw it on sale at Chapters, I had to snatch it up. It was $5!!! What were the chances? I now own this creeptastic, wonderfully disturbing book and I'm strangely so satisfied about it. There's nothing better than buying a book that turns out to be a great read.
From Goodreads: When a beautiful, aspiring writer strides into the East Village bookstore where Joe Goldberg works, he does what anyone would do: he Googles the name on her credit card. There is only one Guinevere Beck in New York City. She has a public Facebook account and Tweets incessantly, telling Joe everything he needs to know: she is simply Beck to her friends, she went to Brown University, she lives on Bank Street, and she'll be at a bar in Brooklyn tonight—the perfect place for a "chance" meeting. As Joe invisibly and obsessively takes control of Beck's life, he orchestrates a series of events to ensure Beck finds herself in his waiting arms. Moving from stalker to boyfriend, Joe transforms himself into Beck's perfect man, all while quietly removing the obstacles that stand in their way—even if it means murder.
This creepy story will stick in your mind in the best way possible. You'll catch yourself side eyeing that random guy or girl sitting at a table next to yours wondering what dark and twisted thoughts have crossed their mind before. Are they hiding something? Do they have some sort of sick fantasy/obsession/fetish that they're desperately trying to keep to themselves?
Warning: Some spoilers ahead!