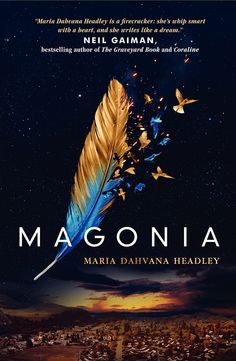 Title: Magonia
Author: Maria Dahvana Headley
Start Date: Aug 13, 2015
Finished: Aug 19, 2015
✧ /5
I know people are going to come after me with torches and pitchforks, but I did not like this book at all. Here's to another gorgeous cover and interesting premise that ultimately falls shorts and ended up being a disappointing read. I gave this a 1.5/5. I just don't have a way to represent the half point.
Let me just say that I really, really, really enjoyed it at first (when I had somewhat of an idea what was going on and the world building was stable and coherent). I loved how sassy Aza was and how each family member was portrayed, especially her sister for not giving a rat's ass and treating Aza like a regular human being. I had so much hope for this book before she was inevitably beamed up to the Amina Pennarum and readers were sent in whirlwind of "Wtf is happening?!" and "Can I stop reading this now?"
With the way the story started out, I feel like this would have been much more successful as a contemporary YA novel. The whole fantasy aspect just fell apart when she boarded the ship. It was like a different author took over the writing and didn't know what she was doing, so all she could do was slap on description after description of what could be fascinating aspects of the story but never actually lingers to tell us more. I was bombarded by so much information and I hate that. I couldn't savour each detail properly because Headley was already moving onto the next piece of information. The way the second half of the book was written is exactly like what you would get if you opened up a pop-up book; everything is presented to you all at once, and don't get me wrong, it's incredibly pretty, but so overwhelming at the same time.
Warning: Spoilers ahead!
Read More »